'Nutrimeals' Launches 1st Contactless Vending Machine in Canada
Calgary-based Nutrimeals has launched what it calls a first of its kind in Canada contactless vending machine that connects to people's smartphones.
CALGARY-BASED NUTRIMEALS VENDING MACHINE IS CONTACTLESS AND CONVENIENT
Sam Hale, who is a co-owner of the company with Grace Clark, said the revolutionary automated vending kiosks are now offering a completely contactless pick up option for people during this COVID-19 pandemic.
"With a push from the global pandemic, these remotely placed kiosks are now able to display their inventories on your smartphone. The app has a unique reservation system where the user can purchase items and pick them up by scanning a bar-code. The only thing the customer touches are the items that they are purchasing," said Hale.
"I believe that this will help with the public's COVID concerns."
Nutrimeals was started in the owners' last year of university at the University of Lethbridge three years ago. Both Hale and Clark were studying finance. It started as an online ecommerce business that allowed people to order food for set durations. People would select a day that they wanted meals delivered to their homes.
Today, the company is operating both its vending machine model as well as their delivery model.
The two vending machines are currently located at 940 6th Ave S.W. and 1040 7th Ave S.W. in Calgary's downtown.
"In addition to central locations, we are looking to expand throughout cities in health care facilities, post secondary institutions, condominiums, fitness facilities, and more," said Hale.
There are usually three or four selections of different meals as well as some different beverages.
"We're going to keep evolving our product line to incorporate not only our own proprietary products but also other local businesses as well," said Hale.
"From the very beginning, Nutrimeals' vision (has been) to create a space where healthy meals and convenience co-exist. We believe that consumers are often faced with the decision to choose between health focused food and fast food. We provide our customers with convenient, wholesome meals that are not compromised by time. Today, businesses are challenged with being able to offer unique amenities in their buildings. We believe that our automated kiosks are the future solution to the diminishing food retailers throughout major Canadian cities," says the company on its website.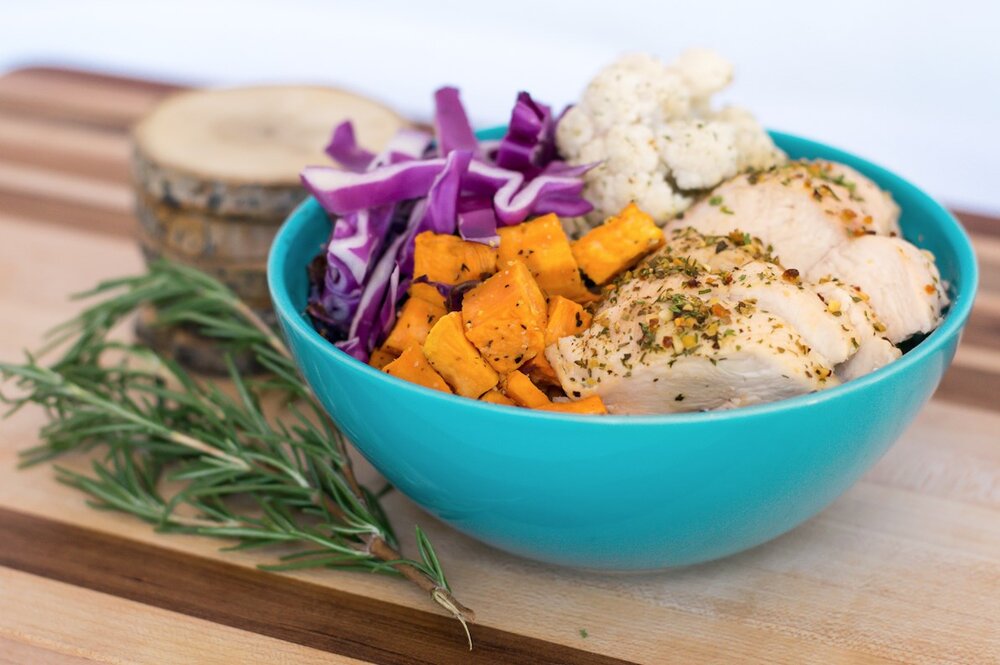 NUTRIMEALS DRAGON BOWL DINNER/LUNCH OPTION. PHOTO: NUTRIMEALS
"Meal production begins with the freshest ingredients and are hand prepared in our commercial kitchen. We transport the inventory in refrigerated vehicles to maintain ultimate freshness. Each kiosk is loaded with a wide variety of meals that are carefully thought out to cater to many different dietary preferences and pallets, including but not limited to: vegetarian, gluten free, Keto, etc. Our menu rotates frequently allowing our customers to enjoy a wide range of taste and textures.
"All of our meals have a shelf life of five days. However, if an item is not sold within three days it is removed from the kiosk and donated to the Leftovers Foundation. The Leftovers foundation redirects the unsold meals to:
Reduce food waste & the associated greenhouse gasses

Conserve resources by eliminating the need to process items that would traditionally be added to local waste management programs

Promote food waste awareness."
NUTRIMEALS PIVOTED ITS BUSINESS MODEL TO ADAPT TO COVID-19 PANDEMIC
The vending machines were launched in January pre-pandemic. When much of the foot traffic in the downtown slowed down because of the pandemic, the company created the app for people to order ahead of time and reserve their meals.
"Now we can actually push the product via our app to the consumer instead of just relying on foot traffic and tenants to that building. The nice thing about the app in this environment is that people are very conscious now about self serve and also contactless delivery methods," said Hale.
"What's cool about the app is when you order on your smartphone you don't have to touch the vending machine anymore. You just scan the bar code the app creates for you once you pay and all you do is grab your product. It's completely contactless and what I call COVID friendly.
"I think it's a very scalable model. It's not necessarily only for food. We're starting here but we plan to do a lot of other industries using this technology because I feel there is a demand there. For numbers, it all depends on the demand that we see from customers or landlords. How it works right now is we rent the space in the buildings. However, we have been getting an influx of calls about the technology and the products that we offer from a lot of places like airports, hotels, universities, schools. And we plan to roll it across Canada as soon as we can."